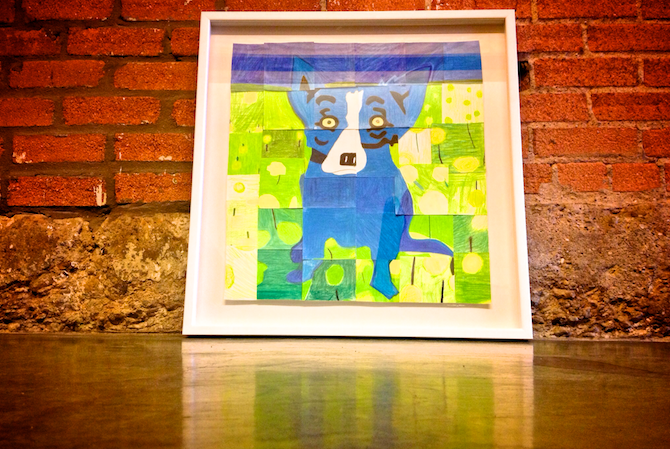 You know how the song goes, "We get by – with a little help – from our friends"
Every year the school our son attends, puts on an auction fundraiser. It's a big deal for the kids because the money we raise provides needed improvement for the school.
This year, Melissa worked with the children of the fifth grade class along with Kathy Van Blargen who is also the room parent. The  goal was to create an artistic piece that would consist of small works from each student in the class. The piece needed to bring a voice  from every child that could fit together as one whole piece. Each child sees "The Blue Dog"  in their own way and that moment was captured within the lines of this fluffy sweet blue dog and his field of green. There's a piece of every student in this project and it turned out fantastic. The theme selected last year was similar and consisted of an art project in which each student painted a circle from the well known "Kadinsky Color Study". The final piece was stunning and it fetched a very nice price at the auction. We hope this year`s project will be just as successful!
Of course, assembling each piece of the mosaic into a presentation for display is much more difficult than it appears. And, the children deserve to have their hard work shine in the best way possible. With little time to spare, we needed a solution — a way to mount, matte, and frame the piece in a way that showcases the nature of the medium and the artwork of the children. Leigh Ann Williams with 24FPS was up for the task and we are so grateful. After 20 years 24FPS is the best kept secret around. They do amazing work and really know how to problem-solve when it comes to helping fine art stand out in beautiful ways.
The project this year honors the work of  George Rodrigue, and his famous Cajun "Blue Dog Series." George Rodrigue's interpretation of the "Loup-Garou" is presented in a way that resembles the form of his studio dog, Tiffany (who had passed away several years prior to the painting).
This particular Piece is called "Blue Dog Cafe" and hangs prominently on the walls of his cafe appropriately named " The Blue Dog Cafe" in Lafayette, Louisiana
Here are the specifics on the piece that will be up for auction this Saturday night at the Orion Ballroom.
'Blue Dog', Collaged Prismacolor on Paper
White lacquered wood frame   -  25″ x 23 1/4″
Wooden support strainer
Float artwork on 100% cotton ragcore
5/8″ deep spacers to distance artwork from glazing
UV-filtering glass
Many thanks to Lee Ann Williams at 24FPS. She is a friend indeed.