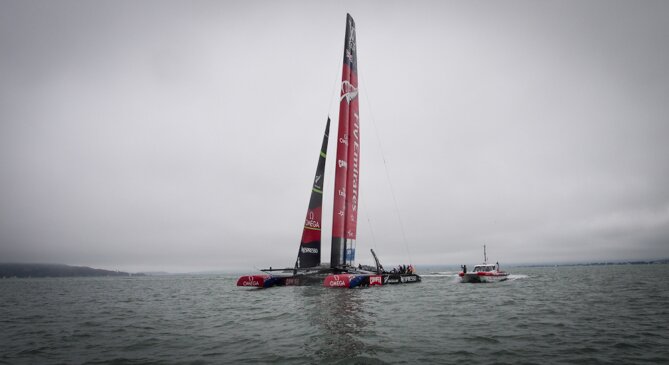 Have you ever met a sailor? Not just a sailor, but a died-in-the-wool Kiwi sailor? These are not average human beings. They possess an uncanny propensity for personal fitness, skill, and endurance. Then, as Kiwi's usually do, they have an abnormal take on what adventure really is.
A couple of years ago I met the greatest sailing team on earth (Team New Zealand). Had the chance to work with them at their headquarters in Auckland and witnessed first hand their passion for dominating the seas.
So we designed and built a blog to help spread as much awareness about Team New Zealand as we could to every corner of the world. In doing so we had a rare opportunity to get to know an amazing family of people. To see how they operate. How they designed and constructed an "other-worldly" race boat. To witness how the they pulled a team together to prepare for the Americas Cup.
After spending three weeks in Auckland recently, I met my family for a weekend in San Francisco. Thinking it was a long shot, I emailed Lisa Edser (of TNZ) to see about connecting with her and the team while we were there.
Lisa set us up with TNZ's Ian Stewart as VIP guests on a chase boat where we could witness the team racing the AC72 boat in the San Francisco Bay.
Lisa Edser and Di Mason helped my family to bundle up and board the chase boat for what was the most incredible two hours the Ronan Family has ever experienced.
Seeing pictures of this experience cannot possibly do justice to what's happening. It's difficult to describe the excitement of bolting through the water on the chase boat laboring to keep up with a sail boat that's hurtling through (and above) the water at over 40 knots. The feeling of the San Francisco Bay winds blowing sea water into your face is a tremendous shot of adrenaline!
Get this — 40 knots is 46 miles per hour! This is a sail boat and it outran the chase boats. This boat is so fast they built another chase boat just to keep up with it. The latest chase boat sports 4x300HP motors to do the job. That's right, it takes a motorboat with 1200 horsepower to keep up with an America's Cup sailboat!
Grant, Lisa, Di, and Stewart – We Ronans cannot thank you enough for your kindness and hospitality. You anointed my children as honorary Kiwi's for the day — they'll never forget that! Team New Zealand is our team too — we hope you can feel a little wind in your sails on race days from our family and crew here in Dallas, Texas!
–
For what it's worth, here's some advice if you ever work this closely with Kiwis.
The Kiwi is a serious human being. As such, they like to give Americans a hard time. Not in a bad way. It's a good and fun way. Be prepared to be messed with.
If you ever start drinking with a Kiwi, you really should stop first. Don't try to keep up. You can't. The Kiwi is unaffected by beer. You can't even dream of out-drinking them.
If you think you have a strong sense of adventure, you had better dial it back about 50%. Kiwis invented adventure. I rented a motorbike and rode around the Coromandel Peninsula. It was an exhausting trip that took me a day and a half. Grant Dalton does that same ride twice in a day. Americans, you could get into serious trouble trying to keep up with the adventurous spirit of the Kiwi.